Travel Information
The city of Groningen is the capital of the province with the same name located in the northern part of the Netherlands. It is the largest city in the North and it is very well connected by road and rail to the rest of the country as well as neighbouring Germany. Groningen is serviced by the Eelde airport located just a few km from the city. However, most inernational visitors arrive at Schiphol international airport in Amsterdam, while European visitors can choose between Amsterdam and Bremen.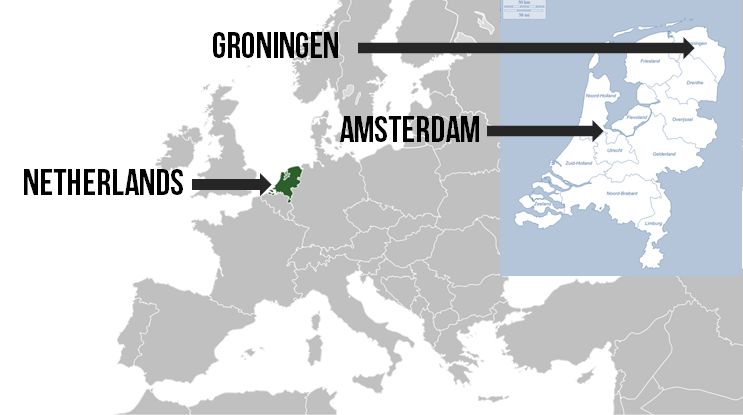 Arriving by plane
Schiphol airport in Amsterdam is one of the largest international airports in Europe with regular flight to multiple destinations around the world. Amsterdam is located about 180km from Groningen and the most convenient and cheap way to reach Groningen is by train. Trains in the Netherlands are run by the Nederlandse Spoorwegen (Dutch National Rail Service) and you can easily book your trip online via their website (also available in English). The train stops at Schiphol are located just a few minutes walk from the baggage claim area. Clear directions will guide you to a large covered hall where you can buy a ticket from the yellow ticket machines. After buying your ticket (if you haven't already booked one online), check the train schedule and platform on the screens ,and head down the escalator. Direct trains run to Groningen hourly. You can also make the journey to Groningen which requires one change of trains (usually in Zwolle). Check the NS website to see which train journey is most convinient for you given your arrival time at Schiphol. Renting a car or taking the taxi to Groningen is also an option. All major rental car companies have offices at the airport. Use this link to find out more about renting a car at Schiphol.
Many low cost European airlines like RyanAir fly to Bremen airport from multiple European destinations. Like Amsterdam, Bremen is located just 180km east of Groningen. The best way to get to Groningen from Bremen is by bus. The bus company that services this route is Public Express. You can quickly check the bus schedule and book tickets online on their website. Taking the train is also an option, usually a bit more expensive than the bus. You can book train tickets via the international website of the Dutch railways www.nshighspeed.nl/en.
Arriving by train
If coming from outside the Netherlands use the international website of the Dutch Train System to check schedules and book tickets. If you're traveling from within the country, use the national website or the national Journey Planner that includes trains, buses and local city transportation to provide you with options to travel to Groningen.
Arriving by car
Coming from South-West (Paris, Brussels, Amsterdam)
If you are coming from the directions of Paris or Brussels the fastest way to get to Groningen is via Utrecht. Get on E19 going north and follow directions to Utrecht. E19 will become E311/A27 in Breda. At Utrecht, follow directions to Almere on A27. When you reach Almere merge onto A6/E22 in the direction of Groningen. If you are passing by Amsterdam, take A1 to Almere, then merge onto A6 towards Groningen.
Coming from South-East (Cologne, Zurich, Vienna)
Follow directions to Duisburg/Dortmund. Then get on A3/E35 towards the German/Dutch border. Switch onto A12 to Arnhem, A50 to Zwolle and A28 to Groningen.
Coming from East and North (Copenhagen, Berlin, Warsaw)
Follow directions to Hamburg/Hannover/Bremen. In Bremen, take A28/E22 to the German-Dutch border. Merge onto A7 towards Groningen.