Venue
The Information Universe conference will be hosted by the Infoversum theater located in the center of Groningen. The Infoversum is a brand new 3D full-dome theater equipped with cutting edge visualization technology and facilities that can accommodate conferences, exhibitions, concerts, and a variety of other public events. The conference sessions will be held in the main theater hall that has a capacity of 260 seats.

Location
The Infoversum is located slightly northeast of the historical city center with quick access to a large shopping mall, several bus routes and the beautiful Noorderplatsoen park.
Infoversum Contact Information
Vrydemalaan 2, 9713 WS
Groningen, The Netherlands
Tel: +31 50 8200500
Email: info@infoversum.nl
Directions
To find out how to reach the city of Groningen go to the Travel section on the website.
If you arrive in Groningen at the central train station, you can quickly get to the Infoversum by hopping on a bus # 4,5 or 11. The central bus station is located right next to the train station. The image below gives you more information about where to get off and how to get from the bus stop to the conference venue. You can also use the Journey Planner (available in English) to find the most convenient way to get to the Infoversum with public transport.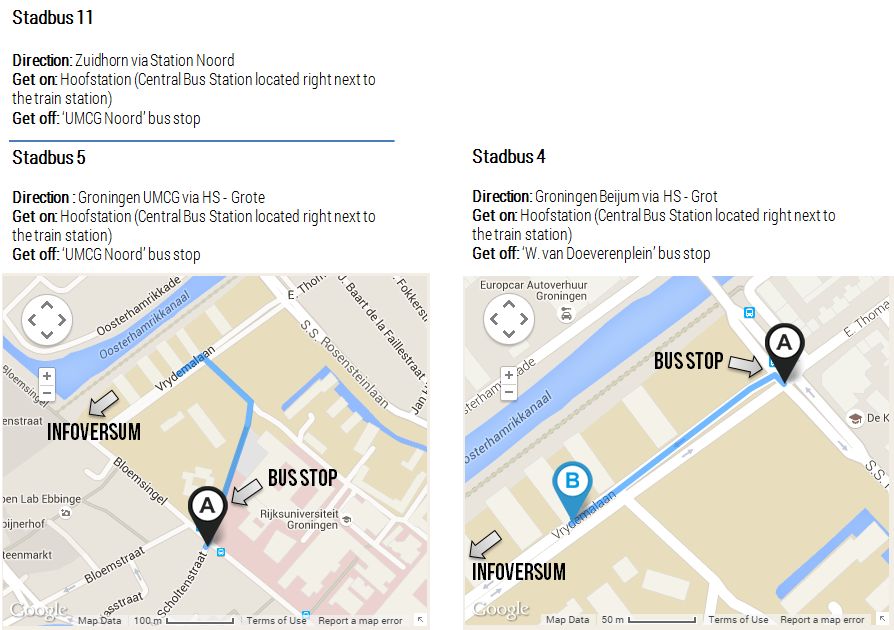 Parking
Parking is available across the street from the venue. Daily pass costs €9 and can be acquired at the registration desk.